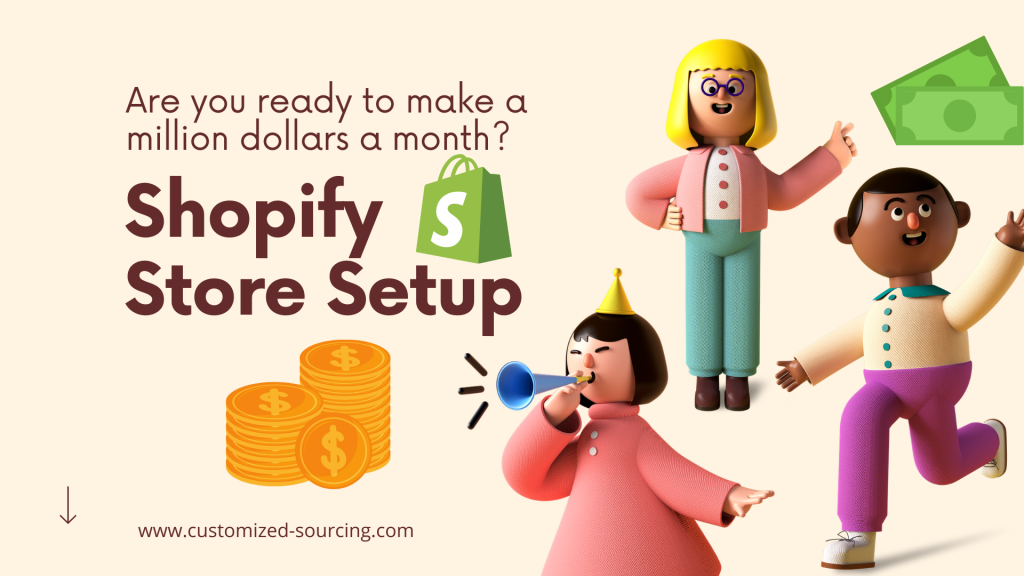 Are you ready to make a million dollars a month? If you choose this service, we'll help you set up your Shopify Store Setup from account creation to payment setup. All we need to know is what you plan to sell, and your brand name – and we'll handle the rest. Once everything is set up, we'll hand over the keys to you.
How much does it cost to run a Shopify store?
Shopify is free for 14 days and then you have to pay the monthly fees according to your chosen plan which begin at $29 USD per month. Our Shopify Store Setup Service only covers the initial setup of your eCommerce store and does not cover maintenance or other regular monthly expenses billed by Shopify or other service providers like the following:
Can I choose the domain name?
Yes, you are free to choose any type of domain name you desire and we can give you recommendations on how to select a domain name that enables you to grow your brand long-term. We advise that you acquire the domain name through www.shopify.com/domains so you can manage it easily through one interface and login.
Can I choose a shop layout?
Yes, you can pick any theme from themes.shopify.com and we'll integrate it with your Shopify store.
How can I deliver my products to my clients?
You can either take care of distribution on your own or have your products sent to a fulfillment facility. We'll assist you pick the ideal approach for your products, and integrate your shop with the best logistics supplier.
To which locations can I sell with my Shopify store?
You can sell to customers worldwide. We can integrate your shop with Easyship.com or Amazon FBA, which enables you to supply products worldwide from their fulfillment centers in USA or Europe. Alternatively we can help you to dropship your products directly from China to your customers via ePacket and other logistic solutions.
How many products can I sell through my Shopify store?
You can sell unlimited products through your Shopify store because there is no restriction on the number of products you can list in your Shopify store. For the initial setup we assist you to list up to 10 products. Please note that you need to supply product descriptions and also images.
How long does the Shopify Store Setup Service take?
Our Shopify Store Setup Service normally takes 1 to 2 weeks.
Shopify Store Setup Service Step-by-Step Process
1. You pick a domain name.
2. You pick a Shopify theme and logo. (If you don't have a logo yet we can give you access to a free logo design tool or our designers can design a custom logo and brand images for you for a small additional fee).
3. We set up payment processing and shipping methods based upon your products, choice of fulfillment method, etc.
4. We integrate the Shopify theme, set up navigation menus, create all required pages like terms and conditions, and also up to 10 product listings.
5. We set up Google Analytics tracking, Google Ads conversion tracking and verify your domain with Google Search Console.
6. We integrate your Facebook Pixel to enable you to track your customers and run re-marketing campaigns.
7. After the setup is completed and you are ready to sell, we will send you all the login credentials and hand the shop over to you.
We will provide further advice how to start selling, run ads and Email support for 1 month after the initial setup.
Who will be handling the orders through my Shopify store and communicate with customers?
When the setup is finished, you will handle the store and all orders directly. This service does not include continuous store administration and maintenance. We don't provide refunds or a money-back warranty once we have started the shop setup process.