Want to know the cheapest international express delivery from China to USA? Want to check the shipping time from China to USA? Check out these top 3 shipping methods guide: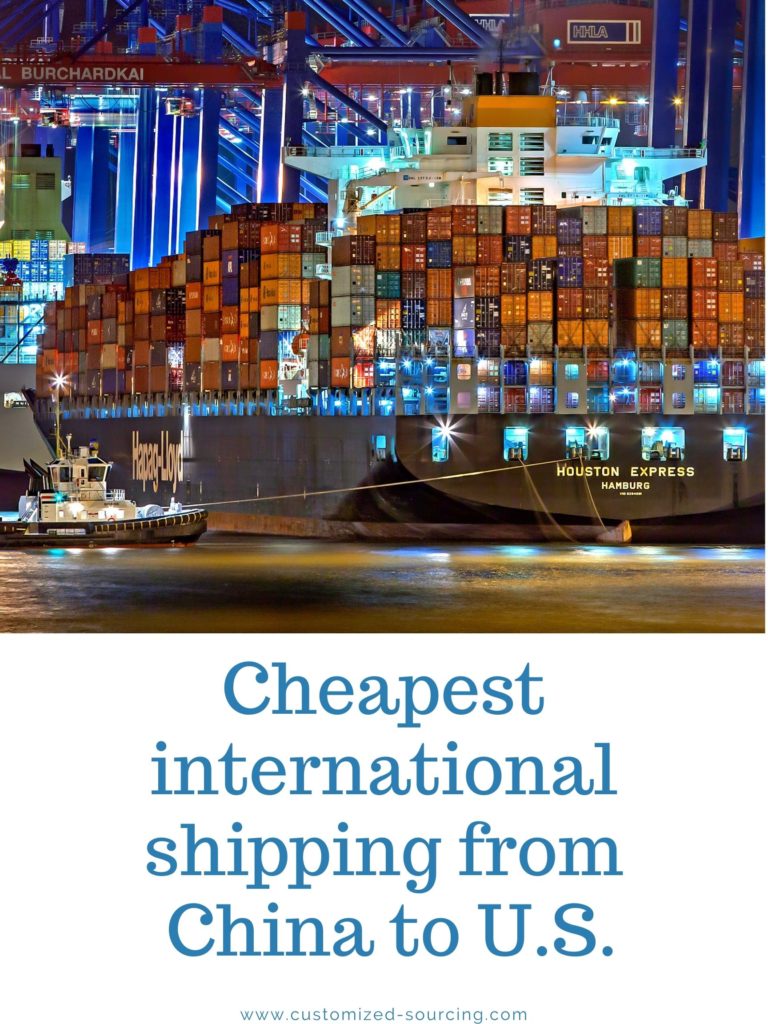 When you import products from China, regardless of the size or quantity of your order, you need to consider the cost of shipping. How much does it cost to ship goods to the U.S.? How do we choose a freight forwarder, how do we get the goods from China to the US and what is the transit time.
Before we go any further, let's clarify the question "What freight services are available to me?" This question.
Here, we provide a summary of three common shipping methods and their transit times to give you a general idea.
| Cargo Type | Suggestion | Time |
| --- | --- | --- |
| Single Package or Small batch | Courier | Fastest |
| Hundreds KG to Several Tons | Air Flight | Fast |
| 10-12 tons or more | FCL shipment by sea | Longer time |
Let's learn more from this article and you will find effective solutions to balance the cost and time of these three different shipping methods, reduce your international shipping costs and solve your logistics problems from China to the US once and for all!
Q1: How do I choose a courier company that suits my needs and what are the delivery times offered by different couriers? And what is the cost?
It is recommended to choose a popular courier company to ensure timely delivery and that the package will not be lost along the way.
And working with a courier that has signed an agreement will further reduce your shipping costs.
From the spreadsheet below, you will see a remarkable comparison of the cost and time of different courier companies from China to the US.
| Courier | Cost level | Time |
| --- | --- | --- |
| | (from 1-10) | (working days) |
| FedEx (IP) | 7.5 | 2-3 |
| FedEx (IE) | 6 | 4-5 |
| UPS | 8 | 2-3 |
| DHL | 5 | 3-5 |
| SF-express | 4.5 | 5-7 |
Usually, FedEx is the preferred choice when it comes to express delivery because it offers IP and IE services to cover different needs and is good in time control.
DHL is the cheaper player in the market. But it is not as good as FedEx in time control. Sometimes there are delays and delivery time is later than expected. But if you don't mind waiting 2 to 3 days more, you will enjoy the benefit of cheaper shipping.
SF-Express is a newcomer to this market. They coordinate with some local distributors for final delivery by working with UPS or other couriers. However, their focus is more on shipping to the FBA warehouses of participating companies on Amazon's platform.
Special Note: If your shipment is over 21kg, you can bargain for a lower price. Typically, couriers consider shipments of 21kg and above to be bulk orders. Therefore, they are willing to give discounts. Therefore, the heavier your shipment is, the bigger the discount will be. Or you can get a lower discounted price through brokers and agencies, because the billing fees for individual shipments are completely different from those of company shipments with an agreement.
But you may have another concern, like, "What if I buy something cheap, like just 50 nice phone cases, but the cost of delivery is killing me?"
The good news is that there is a fantastic service called "China Post" (ePacket/EUB) that is incredibly cheap, but you have to wait about 15-25 days (official time only. It usually takes 30-60 days for delivery) to receive your package.
However, this low-cost service has its own limitations. For example, parcels can only be up to 2 kg and there are restrictions on the size of the parcel.
If your items are not very valuable, or your parcel is small and light, or you don't mind how long the delivery takes (or even the risk of losing the parcel), and you don't mind receiving complaint emails or bad reviews from your customers, then ask your Chinese supplier about this miracle to get a surprise.
P.S. Things sold on AliExpress generally use this miracle service to take advantage of their price competition strategy.
Q2: When is it appropriate to use air service and what is the transit time?
Air freight is suitable for transporting cargoes that meet these two important requirements
1. The value of the goods is relatively high
2. You don't want to wait 30-40 days for sea or land transportation to get the goods.
But, of course, you need to have more than 500 kg of cargo to confirm with the air freight forwarder. Otherwise, the cost is not much different from using express services and the delivery time on the road will be longer.
When using an air service, you need to consider the following four points in order to ensure the actual delivery time
A. When to book a flight position or rather a flight plan?
Typically, you will need to book 10-15 days in advance to ensure that the delivery time is within your desired time frame. In addition, booking in advance will give you more time to compare different airfreight forwarders and thus make a better choice.
B. What are the actual flight times?
For some destinations in the United States, there is no daily flight schedule. In this case, be sure to determine the actual flight date so that you will know when to deliver your cargo to the airline's warehouse and follow the loading procedure.
Note: Airline agents will offer 3-5 days of free storage of cargo. Remember to check with the agent, there is no extra cost for this.
C. Once the flight plan is confirmed, what is the actual process?
1. Your Chinese supplier needs to send the goods from their factory to the air forwarder's warehouse (1-2 days).
2. The air forwarder arranges loading and customs declaration.
In China (1-2 days).
3. Fly from China to USA (2-3 days)
4. Clear customs in the U.S. (1-2 days)
5. Inland shipping to your warehouse (2-3 days)
P.S. The above time is just an estimate and is only used as a reference. Depending on the situation, the time may vary. For example, if there is a delay in customs clearance in China, it may lead to suspension of flight schedule and thus affect the whole delivery time.
D. Special considerations for air transportation.
Some airlines offer airfreight service + UPS delivery. If your shipment weighs 100 to 200 kg and you feel that express shipping is too expensive, try asking your flight agent about the available options.
In this method, the flight agent will collect enough cargo for airfreight and then deliver the cargo throughout the U.S. using a courier service. This combined approach will provide you with the benefit of cost savings.
It is important to reiterate that if the value of your shipment is just ordinary and you want a single item to be delivered to your customer, you can choose the express service instead of the air shipping service. Many customers seem to be confused between these two services and we hope that the instructions on our website will help you.
Q3: How do I do sea container shipping and what is the transit time?
Among the options we have listed today, sea freight is certainly the cheapest, but it also takes the longest time.
But the procedure of container shipping is not as difficult as you may think. You can follow the steps below to apply for a specific container shipment. We often advise our clients to choose sea or land transportation.
Preparation period
1. Ask your agent for freight rates. Ask them to quote by freight/US customs clearance/inland transportation etc. breakdown.
2. Also ask your Chinese supplier to check the freight rates in China for you so you can compare prices and haggle with the US agent if necessary.
3. If your Chinese supplier gives you the FOB price, they need to comply with the local costs in China, such as local shipping in China / customs clearance in China / local costs of the shipping company, etc.
4. If your Chinese supplier gives you EXW price, you also need your agent to help you with China local charges.
5. Find the best option and make a shipment booking (recommended 15 days before your desired shipment date).
China procedure period
6. The shipping company will release the containers about a week before the shipment date. For example, if the shipment date is February 15, then you can ask the factory to start loading the containers from February 8.
7. Complete the China customs declaration before the CY deadline.
8. Containers shipped to the US also need to make ISF 10+2 filing. Ask your shipping agent to do it for you on time (the deadline is usually about the same as the CY deadline).
US procedure period
9. The goods will arrive on board the ship and arrive in the U.S. within 30-40 days.
10. U.S. Customs clearance
11. Finally, U.S. inland transportation to your warehouse.
As you may know, the regular container sizes are 20'GP, 40'GP and 40'HQ. below is a reference to choose the container type based on weight and CBM (cubic meters).
| Size | Weight | CBM |
| --- | --- | --- |
| 20'GP | 10-14 tons | 27 |
| 40'GP | 18-20 tons | 56 |
| 40'HQ | 20 tons | 68 |
Special considerations for container shipping.
Smart readers will wonder what to do when they don't have enough items to fill a container, but want to enjoy the benefits of shipping by sea.
Instead of FCL (Full Container Load) shipping, smart agencies are offering LCL (Less than Container Load) shipping + UPS service in order to expand their business.
The key here is that combined shipping will start with shipping from China to the US and end with UPS distribution to your warehouse. This arrangement allows you to save a lot of money in shipping your goods from China to the US compared to air freight.
To take advantage of container shipping, it is essential to plan a precise schedule that incorporates the effects of long transit times.
Special tip for Amazon sellers or other online platform sellers." Timing for "Air + UPS" and "LCL shipping (ocean) + UPS".
These combination services are preferred by Amazon sellers and other online platform sellers due to cost control and scheduling flexibility (when partial shipments are urgently needed to avoid stock-outs). Combination services usually provide customs clearance, or clearance services, on both ends (China and the US), which sellers love because it saves them from unnecessary headaches.
Typically, Air+UPS is 10-15 days slower than shipping by air. In the formal process, when the goods land in the U.S., the agent needs to arrange customs clearance first and then deliver the goods to the UPS warehouse. After that, UPS will arrange the final shipment. This shows that there are more processing procedures and thus more time spent.
On the other hand, ocean shipping + UPS is faster than regular container shipping, because this combined service will choose fast ship as the first step and express (UPS or FedEx) as the last step. This makes it absolutely faster than inland trucking container transport. In practice, it achieves a time difference of 10 days.
Sea freight + UPS is a superior shipping method to Amazon FBA warehouse. It is more comfortable and offers faster processing and easy product management, thus ensuring that you do not run out of stock and helping to avoid negative feedback on product listings.
A key feature that significantly impacts shipping times and costs for each shipping method.
When there is a potential ripple effect, such as a holiday in China or the US, it will dramatically change logistics prices and times.
Traditional Chinese holidays (during Chinese New Year, Labor Day/May Day, National Day/October 1st) are accompanied by long holidays, so cargo shipments are usually booked up days in advance. As a result, freight costs increase due to high demand.
Based on our many years of experience, the best strategy during Chinese holidays is to try to schedule cargo shipments before the holidays. Otherwise, you are likely to have a big headache due to delayed shipments. Especially according to Chinese tradition, factories have 15-30 days off during Chinese New Year. 2020-2021 holidays may be longer. If you need to deliver your goods to your customers on time, please prepare at least 1-2 months in advance, otherwise you will have a very long "closed door".
So, based on our extensive experience in shipping time control from China to the US, we offer you this experience to help you learn the essentials in this area. By doing so, you will have a general understanding before you talk to your supplier or your freight forwarder.
So, in summary, what your international shipping costs are and what the cheapest courier from China to the US is, really depends on the value of your shipment, your agent and the service and delivery date you require. It's like a triangle geometry, you need to know exactly what you or your customer needs first.
Thank you for your time. If you have any questions, please feel free to leave a comment, or you can check with our purchasing agents for direct Q&A.