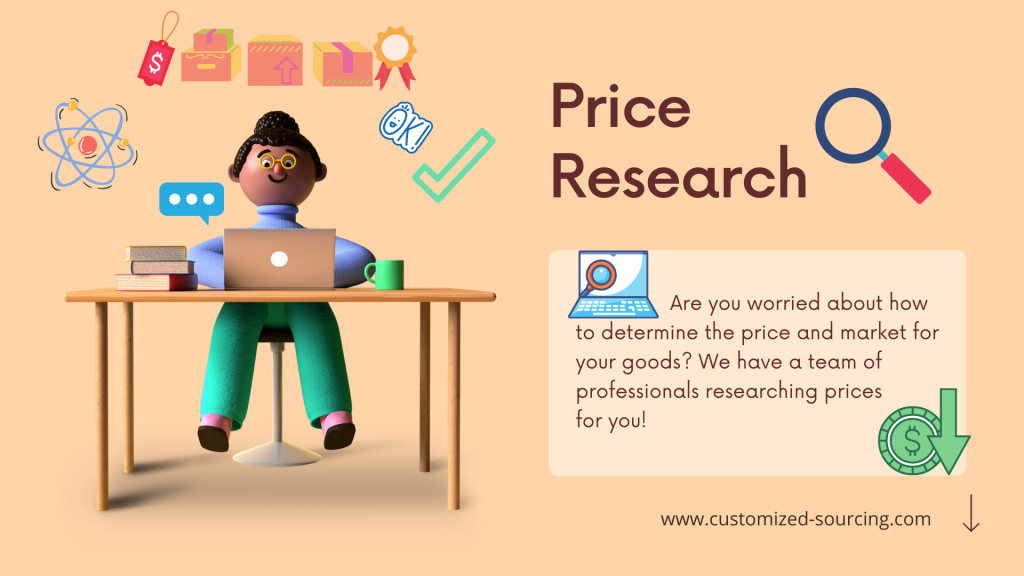 Do you have an idea for a new product, but need suppliers and costing information to estimate your potential profit margin? We can help you identify and contact potential manufacturers to confirm unit prices, minimum order quantities, tooling costs and delivery times. In addition, we can help you design your entire sales plan and calculate the total landed cost – including freight, import duties and other service fees or taxes.
Our Price Research Report includes:
List of suppliers
Unit prices, possible bulk discounts
Minimum Order Quantity Requirements (MOQ)
Product sample/tool costs
Estimated freight costs
Estimation of import duties/taxes
Quality control and compliance costs
Total unit cost
Total project start-up costs
Why do you need price research before you move forward with a business idea?
First of all, we would like to congratulate you on your upcoming success as a businessman, because you have found our website and are seeking this service. Price research is necessary because without establishing all the basic facts about your potential product you simply don't know or can't accurately judge whether the business idea will be successful or not. In addition to the costs involved in manufacturing the product, you should also know the estimated freight costs, import duties and taxes as well as the costs for promoting and selling your product.
Any sophisticated businessman would analyze all these factors very carefully before making a decision about adding a new product to their portfolio. It is not wise to spend a large sum of money for samples and maybe even inventory before doing a complete and thorough price research.
We make sure that our research is based on the best local market prices and the best suppliers. You can decide if you want to proceed with your business plan after you receive the report. If you want to move forward with your plan you can choose our Advanced Sourcing Service. We will discuss prices and other details with the supplier in the course of our value-added service, and we will try to reduce your purchase costs further for you.
How many supplier suggestions will your price research report include?
There will be at least 10 suppliers for your product in our price research report.
What criteria do you use to find manufacturers?
Manufacturer selection is based on publicly available company details. This includes company capital, funding, qualifications, testing track record, and scope of projects undertaken. We also apply different requirements depending on the project scope and industry.
How does your price research process work?
Step 1: Identification of manufacturer categories
Once we have your purchasing requirements, we will identify your target manufacturers. We will also develop custom selection criteria based on the product category, for example:
Product range: Specialized/General/Partly.
ISO 9001: Yes/No/Preferred.
BSCI or Sedex: Yes/No/Preferred.
Test Record: Yes/No/Preferred.
Registered Capital: Minimum XXX, XXX.
Location: City, Province, Country.
Step 2: Manufacturer Shortlist
After the first step of identifying 10 suitable target manufacturers, we will narrow the list down to 6 – 8 suppliers that are likely to meet your requirements best and offer the best overall mix of price, reliability, quality and speed.
We can shortlist manufacturers based on the client's requirements and selection, but our shortlist always includes and is not limited to the following information:
Product fit
Cost
Minimum order quantity
Reliability
Quality
Speed
What does MOQ/minimum order quantity mean?
MOQ/Minimum Order Quantity refers to the minimum amount that must be ordered from a manufacturer, wholesaler or supplier. For example, if you have an MOQ of 100 units or $100, you must purchase at least 100 units or spend $100 to be able to buy from the supplier.
Step 3: Provide a list of manufacturers (PDF)
We typically provide a list of suppliers (PDF) via email within 3 to 5 days.
What information will be provided in the manufacturer list?
Company Name
Product Range
Registered capital
Highest quality management system (ISO 9001)
Social compliance (BSCI or Sedex)
Internet websites/phone numbers/social media profiles
List of reviews or references
FAQ
Do you ensure that the recommended suppliers are reliable?
Mnaufacturers can't be classified as continually "reliable" or "unstable". While we filter manufacturers based on the options required to discover one of the most qualified companies, the results are entirely dependent on exactly how the project is managed once the order process has started. Additionally, there are various other vendor-related threats to consider that can never be eliminated by our selection criteria. Here are a few examples.
Failure to produce a satisfactory product sample.
Quality problems throughout the production process.
Failure to follow initial quotes.
Fraudulent practices by employees (e.g., settlement fraud).
Personal bankruptcy of a supplier.
Theft of intellectual property.
Our selection is based on analysis – it is not possible to reasonably predict every outcome. Do not assume that the vendors provided in this report are in any way "reliable" or "quality" vendors. Price research is a service that is inherently required to be used frequently. If you want to make sure that the vendor is OK for every transaction, our recommendation is that you ask us to double check for you before each large transaction.
Can you guarantee that the final cost calculations are accurate?
We only estimate prices based on details provided by the distributor (e.g. product cost, estimated shipping weight/volume), the logistics company (e.g. freight forwarder), and various other resources. These figures will never be 100% accurate.
What tax obligations do you consider?
We only consider import taxes. We do not include estimates for VAT, sales tax, port taxes, or other various fees.
What countries do you serve?
We cover China, Vietnam, India and Thailand.
What happens after the price research report is provided?
When the report is provided, you will need to clarify any type of ongoing concerns directly with the vendor regarding pricing, specifications, minimum order quantities, or various other related issues. Please note that we do not handle ongoing interactions with suppliers as part of this solution.
Do you protect our brand, design, or other intellectual property?
You must share a product specification file with us in order for us to show it to the supplier to request their feedback and get a quote. We do not act as a guarantor and do not provide any type of compensation if the producer – involved or not in the process – uses your brand name, product layout or various other components of your product. You must obtain appropriate insurance, registered trademarks and licenses (if relevant) to protect your product and/or brand. You may refer to the use of our legal counsel services to protect your rights by signing the relevant legal documents with the factory in advance.