Customers ordering from China always ask themselves every year: When do factories close for Chinese New Year? Experienced buyers know that it is critical to start planning for the CNY holiday early because factories in China will be totally shut down for a number of weeks during Chinese New Year, and after they reopen, it is going to take at least a few more weeks for them to get back up to full capacity.
How Long do Factories Shut Down for Chinese New Year 2021?
Chinese New Year is an official public holiday, so Chinese workers get seven days' absence from work, from February 11th to 17th 2021, but the whole festival usually lasts longer, from the Lunar New Year's Eve to the 15th day of the first lunar month (Lantern Festival, February 26th 2021). The peak time of celebration are the New Year's Eve on February 11th and the New Year's Day on February 12th 2021.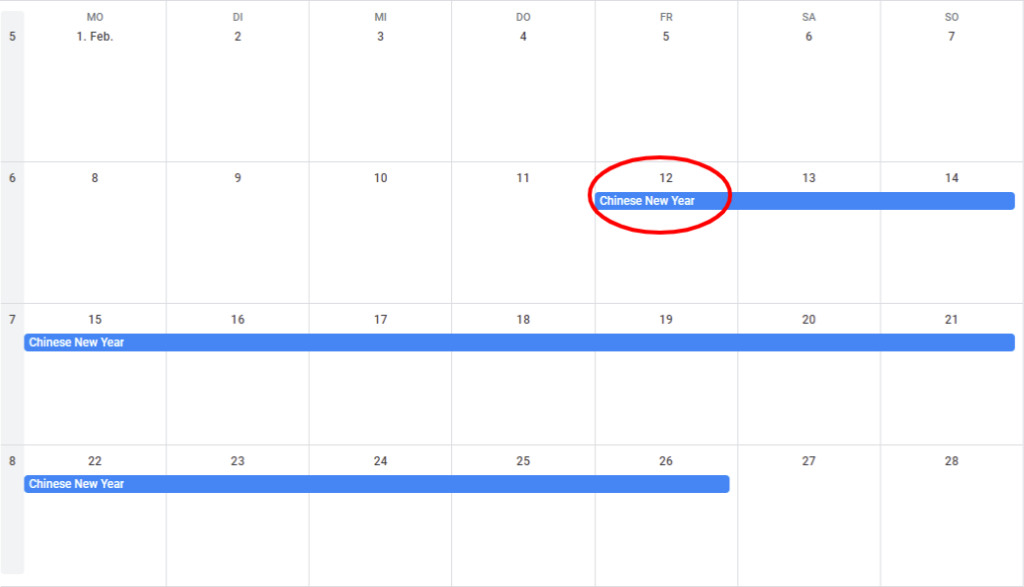 When should I place an order to receive it before the Chinese New Year 2021?
Usually Chinese companies already require long closure times to allow their workers to travel home and then back to the city where they work. Because hundreds of million people travel home during Chinese New Year it is also known as the largest human migration in the world. With COVID-19 the government obviously want to avoid large crowds gathering at railway stations and airports so they will try to encourage people to travel earlier and spread their travels over several days to disperse the crowds.
You will find more infographics at Statista
To support the governments efforts to control COVID-19, many factories and their logistics will already be closed from January 15th 2021 all the way to February 28th 2021.
To receive your orders before the Chinese New Year 2021 this means that you only have a few days left in December to make arrangements! According to current production plans all orders which need to be shipped before 15th January 2021 will have to be placed no later than 10th December 2020.
If you want to have your order shipped right after Chinese New Year 2021 before middle of March 2021 you will have to place your order with the factory in China no later than 31th December 2020!
You can see the cut-off dates for order placement on the calendar graphic below: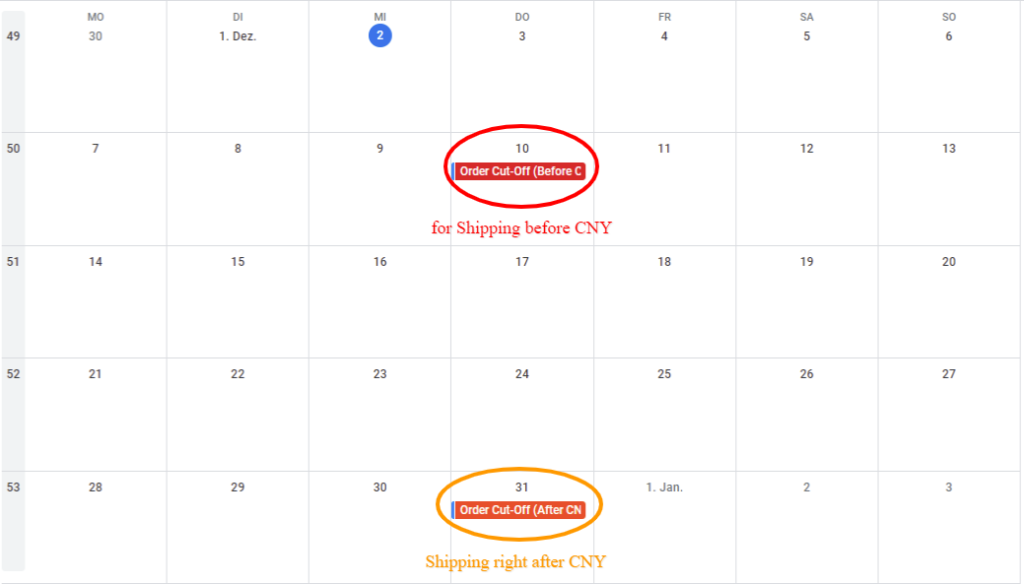 Why does it Takes Factories so long to Ramp Back Up after Chinese New Year?
As shown in the graph above many factory workers are migrant workers that come from other cities and in most cases even other provinces from within China while the factories are usually located along the coastal areas of China.
Since the workers are only returning home once a year this means that some of them might not come back to same factory in the next year. While there was not much work or well paid work within inner China in the past, the situation has changed now and workers can find new jobs even in second and third tier cities in inner China. This new situation changes the perspective and lets many workers question if it is still worthwhile to work so far away from home and only see their families once a year.
For factories this means that they might have to find new workers after Chinese New Year and train them which obviously takes time. Until factories in China are back to full production levels it might take as long as a month after Chinese New Year.
Beware of Mistakes and Quality Issues in The Period Before and After CNY
Having to train newly hired workers adds to the usual queue of waiting orders that need to be finished or that are waiting to get produced after Chinese New Year. Therefore the period right before and right after Chinese New Year poses a high risk for mistakes and quality issues. Because of this we recommend to increase your product inspection efforts in the months before and after the Chinese Spring Festival.
Another big risk is that some factories take the opportunity to close shop completely when they wrap things up for Chinese New Year. Since all workers are leaving and the whole country is taking a vacation, Chinese New Year is a good time for scammers to silently "go out of business" and disappear with the deposits of their customers.
This is one reason why most Chinese businesses usually try to collect all their outstanding debts before Chinese New Year, so we recommend that you don't make any deposits before the holidays. It is safer to wait until you have confirmed that production has started again after Chinese New Year to place new orders and make payments.
Why do Chinese New Year dates change every year?
The dates change every year because the festival is based on the Chinese Lunar Calendar. The lunar calendar is associated with the movement of the moon, which usually defines traditional festivals like the Chinese New Year (Spring Festival), Lantern Festival, Dragon Boat Festival, and Mid-Autumn Day.
2021 is a Year of the Ox according to Chinese zodiac. In the next three years, the first day of the new year will be celebrated on the following dates:
February 1, 2022 – Year of the Tiger
January 22, 2023 – Year of the Rabbit
February 10, 2024 – Year of the Dragon
Other Chinese Holidays with Factory Closures in 2021
Qingming (Tomb Sweeping Festival) – April 5
Labor Day – May 1
Dragon Boat Festival – June 14
Mid-Autumn Festival – Sep 21
National Day – Oct 1