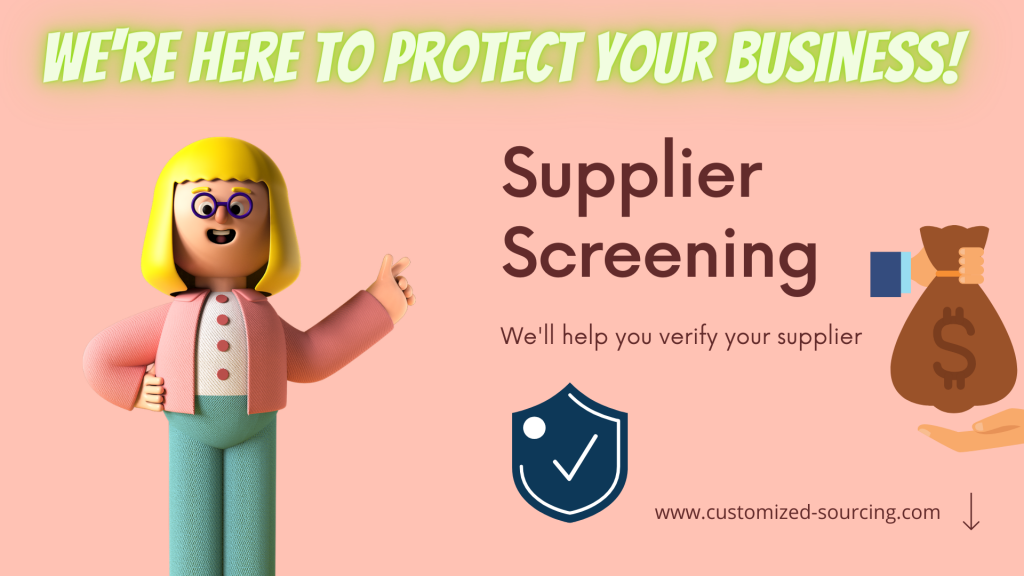 Are you just starting your business? Have you ever asked yourself: "How can I be sure that the supplier or factory I find is qualified?" Especially when trading in foreign countries like China, background checks of suppliers are especially important.
Not sure if the vendor you found online or at a trade show is legitimate? Let us handle the background checks to verify that they are a legally registered company, check their bank accounts and verify product certifications.
Within 7 to 10 days, you will receive a complete vendor verification report in PDF format along with all the documents we received from the vendor.
Why is it recommended to do a screening of suppliers?
We recommend you to do a supplier screening before you spend both money and time ordering from a new manufacturer. The screening can help you respond to the most urgent questions like the following:
1. Are you dealing with a real manufacturer or trading firm?
2. Do they have any (good or bad) customer reviews?
3. For how long have they been in the industry?
4. Do they have experience manufacturing items according to EU, United States or Australian standards?
5. Do they have the required qualification, certifications and/or audit reports?
6. Do they have a quality management system like ISO 9001?
7. What is the general risk degree for this supplier?
While a supplier screening is not an alternative or substitute for an extremely detailed examination, it can aid you to weed out low-end manufacturers, scammers or trading companies.
We request the following documents from suppliers that we screen:
1. Company registration and business licenses
2. Product test reports and certifications
3. Quality management system certifications (e.g. ISO 9001)
4. International labor standards audit records (e.g. BSCI).
How do you make certain that the records are authentic?
Once we've collected the files, we get in touch with the issuing companies (e.g. SGS or BSCI) or utilize their online databanks to verify if the files are authentic.
Supplier Screening Risk Levels
We give one of the following 3 risk-level scores for each manufacturer after we have checked and verified all documents and background information:
1. Low risk
2. Medium risk
3. High risk
What should I do if a supplier has a medium or high risk level?
Then we either recommend that you search for a different supplier, or request extra verification documents addressing the major points of concern, e.g. funding, product test reports and certifications or International labor standards.
Does a low risk score mean that it scams, quality issues or compliance concerns will be prevented?
No. A supplier screening and a low risk score is not an assurance, guarantee or certification of any kind. We make the assessment based on the documentation provided. This is not a guarantee that will or can prevent scams, quality or compliance concerns, because every sourcing project is different and unique and dependent on numerous dynamic factors.
Therefore a supplier screening should only be the very first step of the sourcing process to choose whether a specific supplier deserves more of your time and resources. You have to constantly execute a stringent quality control process as you move forward with a supplier.
Please note that we do not act as guarantors or offer insurance of any kind, regardless of the screening result.
What kind of information do you with the suppliers?
We may share the name, business name, address, product name or SKU and email of the client with the suppliers that you ask us to screen. Usually this is a requirement for making the distributors join the vetting process.
Will you visit each supplier in person?
No, we usually handle the whole procedure remotely. If you need a factory visit in person please contact us for a quotation.
How many suppliers do you screen?
We verify one company per supplier screening. In case you want a quotation for several suppliers screenings please contact us.
Step-by-Step Process
1. We get in touch with the supplier to demand documentation.
2. Verification of documents and background check (7-12 days).
3. Supplier Screening report in PDF format is sent to you by E-Mail.
How to book a Supplier Screening?
Contact us and provide the following information to start the supplier verification procedure:
Business name
Website or Alibaba profile URL
Optional: Contact Person
Optional: Specific product SKU or name
Important Notes
1. We will only report the actual findings and can only base our assessment on the documents offered by the supplier throughout the check.
2. This supplier check should not be considered as a quality guarantee or a product compliance certification. Even if we categorize the supplier as a low risk, you should carry out continuous stringent quality control procedures, as well as make sure that your product complies with all product safety and conformity demands in the country of sale.